Joe & Joni Hackney - Owner
Joe and Joni are from Horton, KS and are currently residing North of Sabetha, KS. They have 2 sons. Tyler who is attending K-STATE University and majoring in Engineering. Joel is a Sophomore at Sabetha High School, and is very active in sports. Joe has a Bachelor of Science degree from Central Missouri State University in Automotive/Power Technology. He has been around cars, old, and new, his entire life. From working in the shop growing up, to working on vehicles while enlisted with the United States Air Force. He worked for UPS for 15 years, and cashed it all in to follow his dreams of owning an automotive dealership. You will find Joni in the office taking care of all the paperwork, and making sure the business in running smoothly. You can also find her in the shop, helping the guys, ensuring that everyone is getting the help they need. Come in and see Joe and Joni , who will ensure that your vehicle needs are taken care of!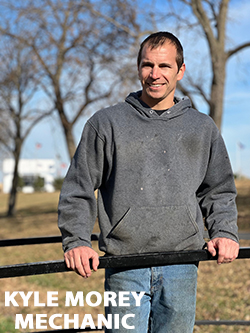 Kyle Morey - Mechanic


Kyle is from Sabetha, KS and currently resides in Seneca with his girlfriend and brand new baby. Kyle has been in the automotive industry for 9 years, and we are happy to have him as a full time mechanic. Come see him for all of your automotive diagnostic, and service needs.