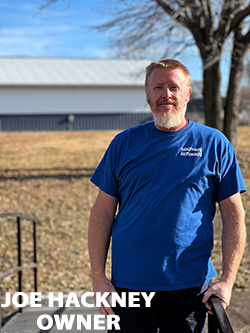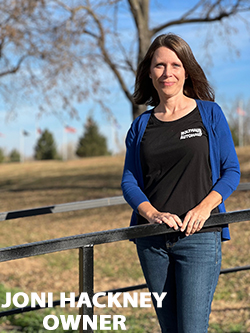 Joe & Joni Hackney - Owner
Joe and Joni are from Horton, KS and are currently residing North of Sabetha. Joe and Joni have two adult sons, Tyler and Joel. Joe has a Bachelor of Science degree from Central Missouri State University in Automotive/Power Technology. He has been around cars, old, and new, his entire life. From working in the shop growing up, to working on vehicles while enlisted with the United States Air Force. He worked for UPS for 15 years, and cashed it all in to follow his dreams of owning an automotive dealership. You will find Joni in the office taking care of all the paperwork, and making sure the business is running smoothly. Come in and see Joe and Joni, they will ensure that your vehicle needs are taken care of!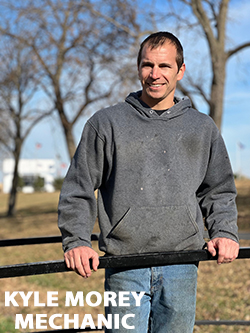 Kyle Morey - Mechanic


Kyle is from Sabetha, KS and currently resides in Fairview with his wife Kristen, and sons Kooper and Kohen. Kyle has been in the automotive industry for 11 years, and we are happy to have him as a full time mechanic. Come see him for all your automotive diagnostic and service needs.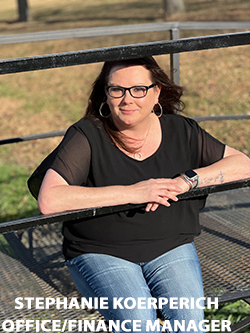 Stephanie Koerperich - F&I Office Manager


Stephanie currently resides in Hiawatha, KS with her husband, Kristopher. She has three adult children Brandt, Rachelle, and Seth. She attended Allen County Community College for Business Management. When you are in need of a vehicle and financing, Stephanie will work to get you the best rate and term, and discuss plans to protect you and your investment!
Jason Brown - Sales


Jason is from Hiawatha, KS. He has an adult son Nick and a teenage daughter Jaiden. He has been in the vehicle industry for 15yrs. We are happy to have him here as he does many different jobs at our dealership. He is also our vehicle locator. If you need any help finding that perfect vehicle come see Jason.